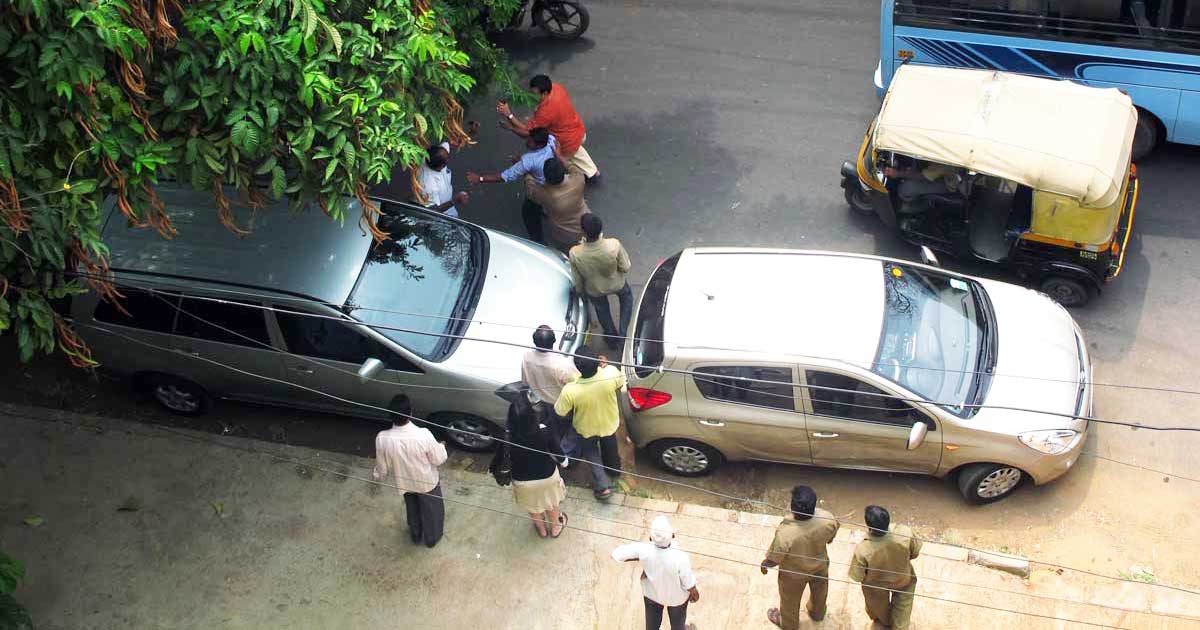 Fight scene in the street just for one car – Photo by White Wolf stopped by howls (India).
What is with violence ? (Part 1/3)
In this interview, White Wolf suggests observing how violence operates within us and in the world. But how to definitely end it? Simply, by real introspection because in each one of us is the key. At the end of this interview, White Wolf offers us a method as simple as it is effective to reach inner Peace…
► Hello White Wolf! You chose to talk about Violence today, thus, to speak about the last attacks.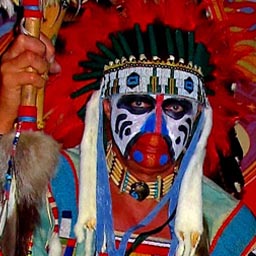 Yes, there would be a lot to say about this subject. We could philosophise about the reasons that push human beings to give free rein to violence… But it wouldn't get us anywhere. Discussing with words will always stay an intellectual process.
► But in order to understand something, shouldn't we discern it intellectually first?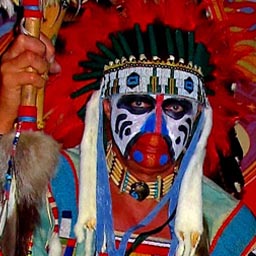 We can. But, to tell the truth, there are two ways, to listen intellectually or to listen with the heart!
► Can you speak about these two ways?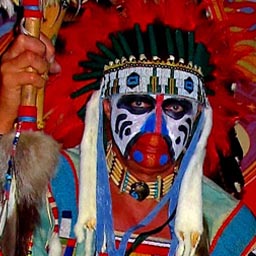 As I just said, there are two paths; one is the path of reason, of the intellect and, the other is the path of the heart, Compassion. We can actually treat a tremendous amount of things and cyclic phenomena with the act of Compassion.
► Is it true that you will be giving a summer initiation where we will talk about compassion and some practices you will give at that time?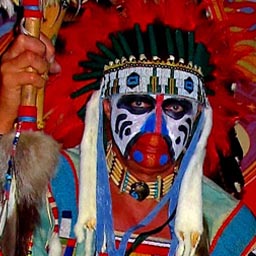 Yes. You will say… Compassion is not a new subject. But, what will change is the method I will give.
► What do you think of all this violence and people's fear?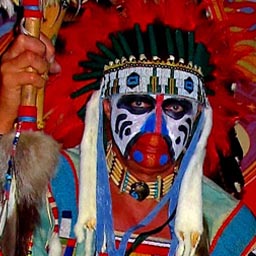 I think it's unhealthy. This violence and fear result in a programming of people's minds. As I said in another interview on the attacks, the true Islam aims to be non-violent. Its believers feel judged and observed. Nevertheless, it isn't right to throw them in with the religious fanatics, or should we say political fanatics. In the last interview I gave on this subject, I said that France would be struck; and will be once more. It's a war of attrition and a means of psychological warfare.
► So how can we get out of it?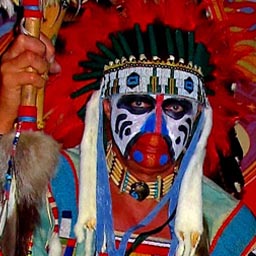 First, it's better not to fear terrorism, or to believe there is « a terrorist on every corner! » as the phobia goes. Don't be afraid of meeting a person dressed in his/her traditional clothes, whether he/she is Arab, African or even « White ». You can't judge a book by its cover! You may know the quote: « Fear doesn't save us from danger »! I would even say that fear programs danger and, in the end, what terrified us most occurred when we expected it the least.
► It's true! And each one of us must have noticed this at a moment of their life. What can you offer to people who are reading this interview?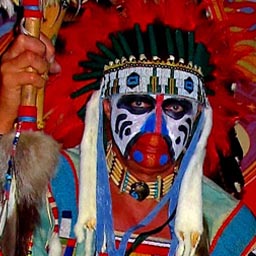 I can give them a method that will help change their perceptions, meaning that this practice is going to program our life in a quantic way. When fear isn't there anymore, what could we fear? But let's go further into the subject of violence! When I see what animals endure because of us, I'm not surprised at all of what humans can do to each other. Don't they say brother will turn on brother, "Homo homini lupus est"? That being said, we can actually say that man is the worst predator, and an enemy to his fellow man…
► Every day we see examples of this violence…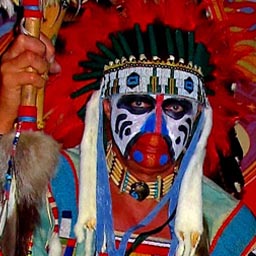 Yes! No wonder there are so many atrocities in the world when we see what animals endure because of us! One could wonder if there is a virus in the human being, or if he's simply sadistic and conscienceless. Of course, I won't lump everybody together. Some people uphold the protection of animals, and it's good, but if they want to act with integrity, they must understand the necessity of eliminating meat-based food. Because supporting animal conservation and, at the same time, filling your stomach with animals is just a little hypocrital…
► Perhaps people don't make the connection?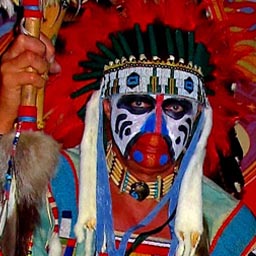 Certainly. Or, they don't have much consciousness. Now, let's get back to the subject, which is violence… It's everywhere. When you think of soccer, there are often a lot of wounded people and even deaths. I don't understand why this game isn't forbidden. Certainly, because it pays a lot of money… There's an arena, spectators, and finally, the gladiators who are the players… In fact, we're still in Roman times. There are thousands of euros at stake… Violence is money, and money is violence. For x euros we can even kill! It all depends on how we see the money…
► How's that?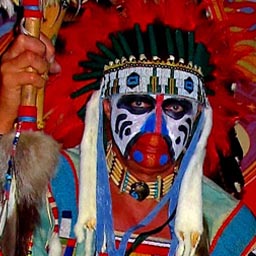 Well, weapons are well sold! If we take the example of hunting… How many arms are sold every year? And how much ammunition? Licenses to hunt? Death pays. As well as disasters; newspapers are crazy about it. Like vultures they swoop down on information and fling it to you immediately. Violence goes hand in hand with fear. Fear is also well sold, and through fear we are intelligently manipulated. Fear is an arm for governments; they use it effectively to pass laws and to govern us better. Fear, Violence, Death, all well sold. Disasters also, as long as there is Death, Fear, et cetera.
► You mean that the whole society is based on these three principles?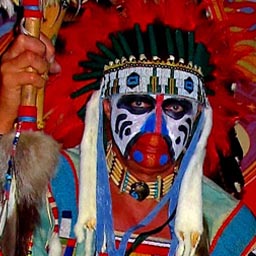 I'm not saying anything, I'm observing. And you should do the same. You know, when we open our eyes early as I have, it's very difficult to live in the middle of the collective manipulation. When we see the Play the Ego in action, it makes you ask yourself if we didn't fall into a lunatic asylum. Mind you, I must be the craziest of all, because I'm trying to take the crazy out of the infernal circle of madness. Which, believe me, isn't a small matter!
► Do you think that this violence will end one day?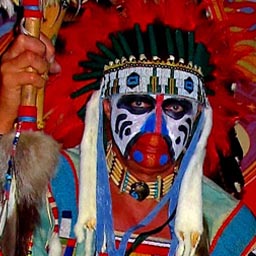 I'm sure; this Violence will end one day, yes! With the disappearance of Humanity, because men will have destroyed this earth. So I make no mistake in saying that. In the meantime, France will still be affected by terrorism. It's escalating… I think that October and November will be two months when it'll be recommended to be careful in crowded places, public transportation, bus, and especially subway.
► You're saying that there could be an attack soon?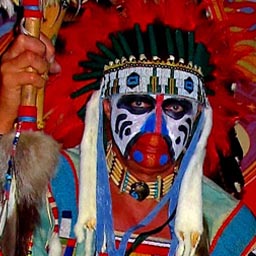 Yes. One or several, planes, trains or subways. More likely the subway because many people take it for multiple reasons. I just want to send word of it; I feel that it's not over-quite the opposite, I smell it, it's in the air.
► It's not good news!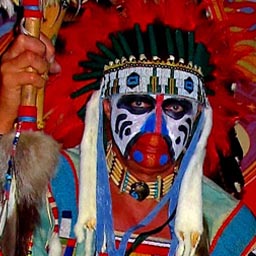 No, it's not… This world is a little bit crazy. Everything keeps on going faster and faster, young people communicate with mobile phones or what not, human relationships are becoming more distant… well, it's not a majority. But one day, at the airport, I even saw a couple communicating by tablet! (Laughter)
► By evoking other attacks, people are going to be scared of going out or taking the subway or the other means of transportation, don't you think?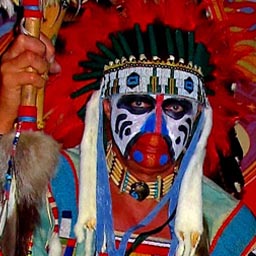 I don't want to create a wave of panic. There is already enough panic; which is why this is far from my mind. But I want to warn about this possibility, it's in the air, I smell it as I said. I already had predicted the other attacks, so now, I tell you, listen to your intuition, it will tell you or ensure that you won't be in certain places.
► But how can we stop the escalation of violence?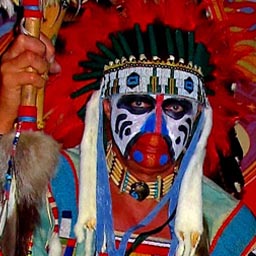 It's a difficult thing, because the whole humanity is in this dance without knowing it. Violence is in everybody. We have proof of it every day. One day, even, unawares, it surfaces and we don't know why. Of course, there are nonviolent beings. We have to make every effort to transform this destructive strength into a creative force. This thing isn't easy, but humanity can achieve it if they really want to.
► How to do so?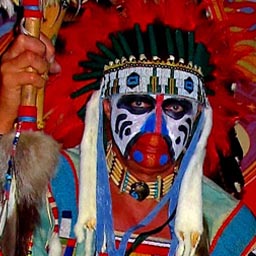 Well, it's a question of seeing our own violence and learning to defuse our own bombs. It's possible through Forgiveness, which is part of the Gift that we have within each one of us. Then, it's necessary to put Love where it's not present, we must enlighten our shadow areas, clarify them, understand them, accept them. It's not about denying them because they are there; they show us the work to be made on ourselves.
► You say that Forgiveness and Love can change a person's program, is that right??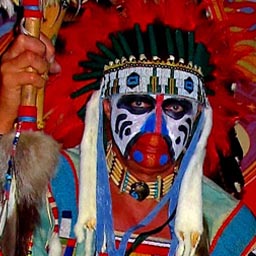 Not only do I say so, but I declare it; all these problems that you see on this earth, come from the fact that People don't love themselves. By considering another person as an enemy, we lose sight of the reality-that the only enemy to fight is Ourselves! There is not, nor will ever be any other enemy than Ourselves!
► It seems hard to make people understand, especially when it's so easy to judge others!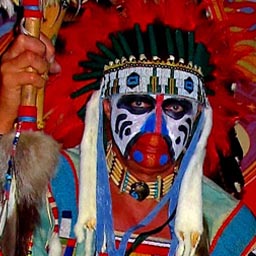 Yes! The being is divided, religion is divided, politics is divided, medicine is divided; in this macabre duality, unity is relegated to second place. Who pulls the strings of all this? Who is above your heads to control your lives? Open your eyes because it's time to open them, otherwise you are going to remain blind until the day of your death! In fact, humanity has been zombified for several years. The era of machines overtook men and women; progress was only supposed to unchain the human being. Violence is the main dish of media, fear is the dessert of these same media: War = Violence = Fear = Submission.
► You're not announcing a very joyful future…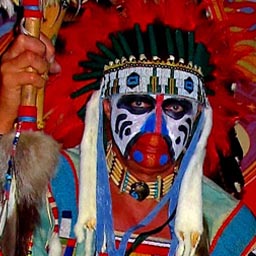 I don't have the new-age language which tells you that everything is beautiful, everything is enjoyment, that's for sure! (Laughter) I only say what I see, what I feel coming, and it comes rather fast. But didn't I also say that we can change reality? Not that of the world, but ours! Because in order to change the world, every consciousness and unconscious being would have to be focused on a particular theme… Can you really imagine every single human being of this earth doing it? No, be realistic… it's impossible. The only thing we can do is change ourselves, by applying the advice of informed people. Now, I'm not telling you to follow what I say! I'm only trying to inform. But if you can hear what I'm telling you echoing in your heart and understand that it's time to wake up, to open your eyes, then it's good. Everybody has this Power within them, to Change Reality! We have to throw out this violence which is accommodated in our heart, our thought. We are made in the image of God, and I'm not speaking about the God of religions, but about the God that is pure Love and gives Free will to his children.
► Yes, everything seems easy for the one who has opened eyes! But the process to reversing our ignorance to a condition of thought and knowledge is so long?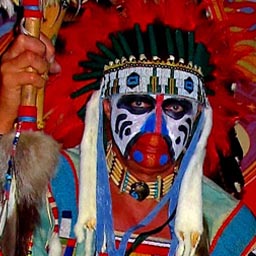 Yes, this process is called Alchemy; we are like alchemists who transform lead in gold. It's not done overnight. But when this process has begun, the invisible aids will help us in this cellular transformation. All this Violence housed in men and women has to be inevitably transformed into Love and Compassion. By means of Blessing, it's very quick, because we are all alchemists and magicians; we just have to open ourselves to it. We can change the World. But do we really want to change it? That is the question we need to ask ourselves.
► Yes… And you, what do you think about it?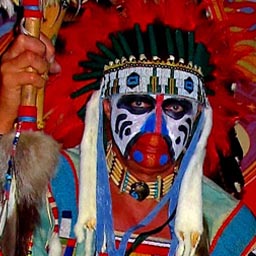 There's a lot at stake. Power, Money, Submission, Manipulation… are part of this great world Play, where those who are at the base of the Pyramid are only the victims, the cattle, the outcasts. But if the pyramid has no base, it cannot have a summit, because everything relies on the base. People are the Base of this Pyramid. Do you understand that this pyramid isn't the right one? Everything being rigged, we look at the problem from the wrong angle; we have to restore certain truths so that humanity can get out from underneath the thumb of this manipulative duality, get out of the great sleep in which it has sunk. Violence, Fear, War are well sold! Get out of this Imaginary Circle, wake up, those of you that are sleeping! I have repeated this message for several years. Don't be afraid, don't respond with violence! Be an observer of your life and all that surrounds you! And understand this huge game of snakes and ladders that you are in the middle of! Release your Forgiveness and your Love; say thank you to Life and to all that you received in blessings or in trials because they are only two sides of the same coin. I wish you the best! It's there, just in front you, within you! It's always been there and it'll always be right there! I wish you to find truth, the one that frees us, the one that gives confidence and that allows us to see another reality.
► Do you thing that 2017 will be more positive, that people will have understood, that humanity will turn its gaze more deeply towards beauty and truth?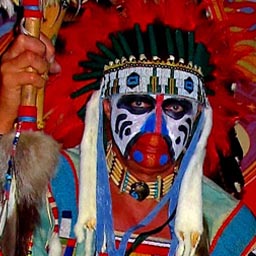 I think that it's hopeless to wait for the world to change or for humanity to change, for 2017 to be more positive or for the worlds' gaze to be turned towards beauty and truth. This is pure illusion and a waste of time. Change comes for each one of us; it cannot occur from the outside; change always comes from a growing awareness and emerges from within. Only awareness through the reflection of what is really happening in the world or what is happening inside ourselves brings that. Am I happy to see all this suffering? Am I responsible for all this suffering? Here are the questions that we must ask ourselves. Then, what can I change where I am? How to do so? I wish to tell you this before concluding… Tell me… How many "Yes" and "No" do you say in a day? If you repeat the word "Yes" in the positive way, you will develop a good optimism. Let's take an example: Yes to life, Yes to everything that I live at the moment, Yes to others, when they ask me for a service… And observe, in contrast, when you say "No", No to life, and to everything that you are living at the moment, No to services others ask you for. This "No" shuts yourself back in your lead shell. But sometimes, a "No" can also become positive… For example, No to disease, No to violence, No to ignorance… As well as « Yes » can become negative, such as, Yes to disease, Yes to violence and to ignorance…
► I understand… "Yes" and "No" depend on the consciousness we put in these two words, is that it?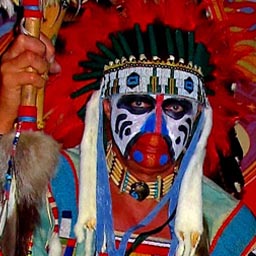 Exactly! (Laughter) What power do you put in your words? This is the question. How do you use the Word which goes through you every day and which is expressed by words? We have to treat our Problems with Words (a French play on words saying: "Soigner les Maux par les Mots"). Violence is there, as well as insecurity, which is fed by violence. Then comes fear, then the role of victim, followed by judgment, racism, and all this brings to vengeance which is always expressed by an ignorance of the Laws of God.
► So, concretely, what can we do in this world?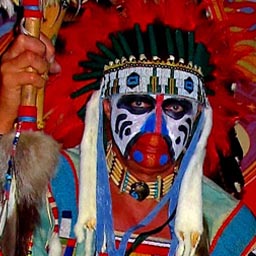 As I said it, to change the World and to bring Humanity to see differently is impossible. It won't ever happen on this Earth, too much is at stake, politically and religiously. And those who are behind all these systems, do not want humanity to get better; quite the opposite, for them, things are good as they are, because violence, war, disease, fear and submission serve their interests. It's important to understand once and for all that all the political changes are useless, they are only empty speeches to put to sleep the voters. Nothing changes except for the presidents, the secretaries… The situation remains the same and you know why? Because these people are poor in spirit, they have an internal poverty, and the world itself has the same internal poverty. We'd have different political systems, even social systems, it wouldn't change the state of the world. As long as we avoid looking at our internal poverty, nothing can change! Thus, Violence will remain, War too, Fear too, and Submission as well. Unless we turn towards ourselves who we ignore. This being that I don't want to hear of by looking the other way. In fact, the only person to treat is this darker side of ourselves that we must see and understand and of course accept and live with completely. We may appear as someone to others, if this side screams in us, we will always be prisoners of ourselves, hindered by this side which we hide to others and ourselves.
► You're saying that this part of ourselves is responsible for everything that happens on our planet?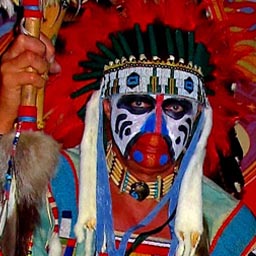 Not only I say it, but I assert it. Yes! This part of ourselves, this darker side which screams in the silence of our soul, this side of us which suffers from this solitude, this part that wants to escape and who doesn't want to face itself any more, is responsible for everything! Yes, this part is suffering, yes it is self-harm! This part of ourselves that is a Child who is prisoner of its own beliefs and of those we put in him! It is necessary to forgive yourself to move freely forward, it is necessary to know how to Forgive yourself! Most people run after external wealth, but they should rather develop their inner wealth, because it gives a great power to the soul. Certainly, we need money to live, the society is made in a way that it's necessary for us to work to eat and have a roof over our heads. But, actually, if I block your breath for a while, the only thing that will matter to you is to breathe! Thus, where will be the importance given to money at this moment? It will be non-existent. Find the Inner Wealth and you will always be in an eternal happiness. Believing in politics or in religion won't change the World by any means. Since humanity exists, wars are only political or religious. So stop believing in these two plagues and believe in a world community which would be anchored in the well-being of each one of us; where profit wouldn't be a race to destruction. But, then, this is a utopia; let's get out of the dream, this cobweb weaved by people who only think of making money without thinking of others! Let's get out of this psychic violence in which we are all absorbed in! Let's open our heart to the universe and the universe will give us what we want if we are in line with its Law of Love.
► Thank you White Wolf for sharing this with us! Could you give us a meditation or exercise that helps us open to the universe?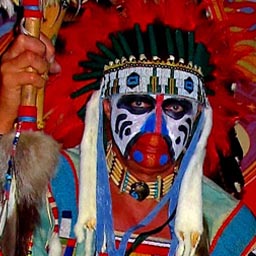 Of course! Begin by sitting comfortably… Listen to your breath, right there, observe the air that goes through your nostrils. It goes in and comes out. Don't put any effort into it, let it be… Observe your posture at the same time, your thoughts, but don't attach any importance to this phenomenon of thought, nor to the posture, or the physical pains. Just be in your breath, and while you breathe in, internally say this:
BE AT PEACE AND KNOW THAT I AM". And during the expiration do the same by repeating internally: "BE AT PEACE AND KNOW THAT I AM". Calmly, slowly, be One with this assertion. Do this 30 minutes in the morning and 30 minutes in the evening. And if you can do even one hour in the morning and one hour in the evening, do it! You will feel a great Peace within, and a presence awaken day after day, you won't be afraid anymore, you will be more calm and radiant. With this assertion or mantra you connect to your truest and highest spiritual part. Do as if a voice spoke to you, the voice of "I Am" within you who speaks to you and tells you: "BE AT PEACE AND KNOW THAT I AM"! Receive my blessings and my bright thoughts in the peace of I Am.